Overview
Import is a tool that allows you to import lists of subscribers instead of having to add them manually one by one.
How to access it?
It can be accessed from the top-right menu as shown in the screenshot below: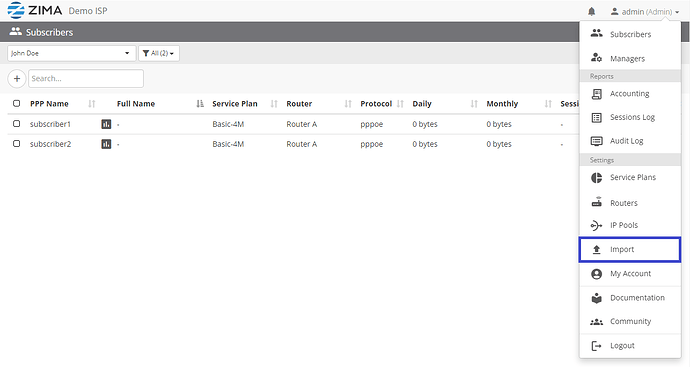 Considerations
Before you begin, make sure to:
Assign the routers
to the manager to whom you're importing the list.
How to import the list?
Select the Manager to whom you want to import the subscribers list to



Notice the standard required fields:
PPPoE Name, PPPoE Password, Service Name, Router Name
How to verify that they were imported correctly?
Go back to the subscribers page, and select the manager. You'll see there the subscribers list that you just imported.


Congratulations!
Further notes
The import tool can be used also to update existing subscribers list.
For example, you can add fields and paste the list again with the extra fields and click Import. It's safe to run it again even if the subscribers were already created in the system. ZIMA will update the existing subscribers with the new fields and will not duplicate them.

If you want to import a list from your Mikrotik, you may want to check: Export the list of PPP users in Mikrotik

If you're migrating from the old on-premises ZimaRadius version you may want to check: Migrate from Zima Radius to Zima Cloud