On the right hand side of your monitoring page,
Go to Settings, click on Service Plans:

Click on your desired Service Plan, for example here we have chosen Serviceplan1:
Note: the rules column is currently empty.
Go to Quota Control, click on Add Rule:
Each rule has a name, a set of conditions, and an action.
Add a Rule Name
Conditions include:
daily, weekly and monthly consumption limit, and you can even specify a Time of day or Day of the week for consumption limit. Learn more.
As an example, we will select a monthly consumption limit.
upload and download or both as Up+Down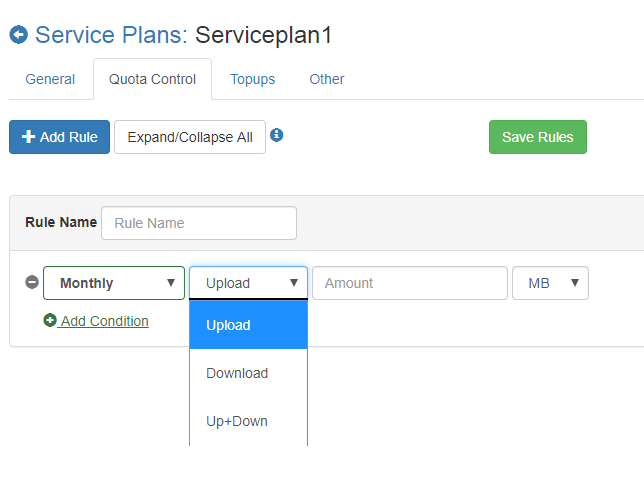 Here we have selected Up+Down
Specify the value of the consumption limit in the box. For example, "50"
Specify the unit GB or MB, here we will select GB.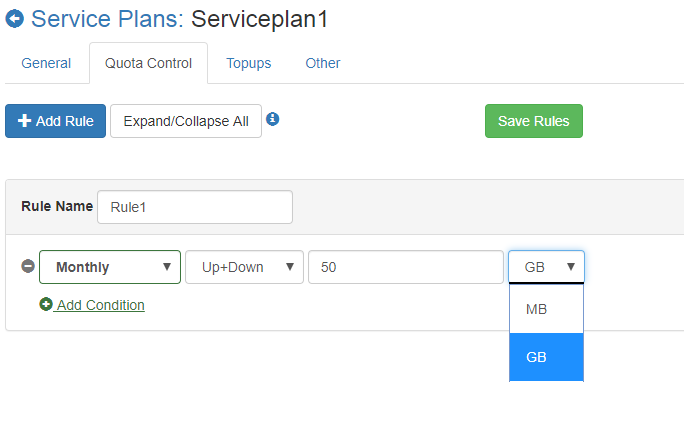 Once set, it should look like this:

Finally, select the action to these conditions.Learn more.
choose between or
As an example, we will select

.
To

, specify the new speed.
Here we specified a rate limit of 512k:
Don't forget to click .
Final Note : if you go back to

, on the right hand side in the

colomn, you can find our added rule.
To Learn more about rules, Click here.