Select Service Plans from the Settings menu on the top-right.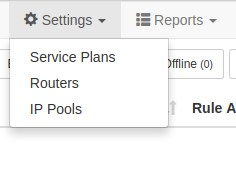 On the Service Plans page, add a new service plan:
Name your service plan (for example: 4M-Residential)
Set a default rate limit (for example: 4M/4M)
Click Continue, you will be redirected to the Quota settings
If you just want a simple service plan with a simple rate limit, you can save and you're done.

To customize your service plan you may check the Quota Control guide.
Next, you'll need to assign the service plan to resellers so that they can use it. Even in the case of a single reseller ISP (One-man ISP), you need to assign the service plans to your reseller profile to be able to use them.